LAVENDER GARDEN DAY SPA

Welcome
Balancing Touch Massage Therapy is now LAVENDER GARDEN DAY SPA
Balancing Touch Massage Therapy has moved to a new location, and is becoming
We are expanding: Our new location as of March 1st, will be at 219 S Westnedge, in the historic part of Downtown Kalamazoo!
We are looking forward to seeing you there.
for online booking click on the following link
Give the gift of relaxing and rejuvenating
with a Sedona red clay BODY WRAP! Your skin will feel smooth, enriched with sea salt, minerals and vitamin E
We integrate a tailored massage. Choose from 60 min $99.00 or 90 min $135.00
♦
Enjoy a
COUPLES MASSAGE
Give the perfect gift to your someone special:
One hour side by side couples massage $130
♦
Online Gift Certificate Available

Become a Member
60 min / $49.00
♦
Buy 5 Massages get 6th Free
(full price and in advance)
♦
BODY WRAP
Receive a treatment of pure relaxation, with a French green clay body masque, which is stimulating and detoxifying, infused with green tea extract, grapefruit extract and kelp. We will massage the mask into your body, leaving your skin energized and super soft. Oh, and not to forget, in addition to a head and shoulder massage we will dip your hands in paraffin, for the ultimate relaxation!
$99.00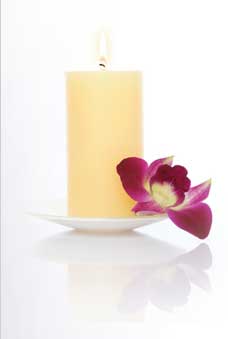 About Lavender Garden Day Spa
Lavender Garden Day Spa is an elegant and intimate retreat in the historic part of Downtown Kalamazoo, where calming people welcome guests. The atmosphere is serene, warm and inviting.
We offer the finest quality Massage Therapy, body spa treatments, skincare services as well as Infrared Sauna therapy. Our friendly team of professionals, is dedicated to excellent client service. We will provide a nurturing, safe and immaculate environment with the highest moral and ethical standards. It is our objective to exceed your expectations and make your visit with us one to remember.
We are pleased to be able to accommodate couples,
private parties, bridal showers, and special occasion's events .
If there is anything that we can do to make
your time at Lavender Garden Day Spa more
enjoyable, please let our staff know.The clinic provides advanced therapeutic and relaxation massage in a safe, comfortable, and relaxing environment.
We cater to clients of all ages including children, adults and seniors. About Us
We, Claudia Sosulski CMT and owner, and Amy Bradley CMT, are offering the highest quality of care to our clients. We are friendly and knowledgeable and care about all aspects of your treatment. We customize each treatment to meet your specific needs by incorporating a variety of assessment and treatment techniques that are best suited to you as an individual.
As part of our service, we will provide you with knowledge of self-administered pain management techniques such as stretching and strengthening exercises and the use of heat or cold therapy, which will help you get the most out of each treatment.
Balancing Touch Massage Therapy is dedicated to improving the general wellbeing of all our clients.
GIFT CERTIFICATES ONLINE!
Start Your Wellness Program With Us
Membership Start At $49.00 per hour
Buy a package of 5 full priced massage services, get 1 free!
buy your certificates online, or feel free to give us a call
Check out our video! http://www.youtube.com/watch?v=-6TpMz445ME